Tuesday, November 25th, 2008
---
1:58 pm


Oh. Hello. I haven't updated this thing in over a year. I don't know if I will a lot after this post. A lot has changed.

Who's still out there?

I've spent a year living in New York. I worked for an independent coffee shop, performance space, and community center, then I quit and worked for an audio post production company.

I currently live in Bushwick, Brooklyn. I love this neighbourhood. These photos are my love letter to it.


Wednesday, August 29th, 2007
---
4:25 pm
- staten island housewife
Wednesday, July 25th, 2007
---
1:41 am
- a post in my old style, just this once
Friday, July 13th, 2007
---
12:21 pm
Tuesday, June 26th, 2007
---
4:54 pm
So I'm thinking of doing another zine. I haven't been too involved with the zine world lately and it seems like a lot of others aren't either. Most of the distros I used to buy from have closed and there seem to be a lot less zines out there, even compared to a few years ago. I know some of you livejournal friends have made zines in the past. So I guess I'm posing a question to you: Are you still making zines? Are you currently working on a zine now? Are you still buying zines? What are you doing creatively right now if it's not zines? I just want to know your thoughts and what you're up to. Dialogue with me, dialogue with me.

I wasn't planning on making another zine either, but I have an idea churning in my head that seems suited for a zine format. It will involve text/image writings, a good mix of fiction and non-fiction, and it will probably be breaking some copyrights.

Speaking of breaking copyright, I just read an excellent essay called "The Ecstasy of Influence: A Plagiarism" by Jonathan Lethem in the February 2007 issue of Harper's Magazine. It's online, but print it out if you're like me, who can't do important reading off a computer screen. You should read it, since my summary does not do it justice. It's about how copyright laws and our society's obsession with cracking down on plagiarism and piracy stifles creativity. He first discusses how all forms of cultural production have thrived on borrowing, allusion, collaging, remixing or whatever you want to call it. All art is sourced and if that wasn't true, most types of art would not evolve. It ends with a call for copyright reform. Best of all, Lethem takes his own advice. He gives his novels to the world at the end of the essay and also reveals that almost half the text of his essay itself is taken from other sources (which he credits at that end). And he's used them to construct a beautiful argument.
Monday, June 25th, 2007
---
5:16 pm
Saturday, June 23rd, 2007
---
2:19 am
- miranda july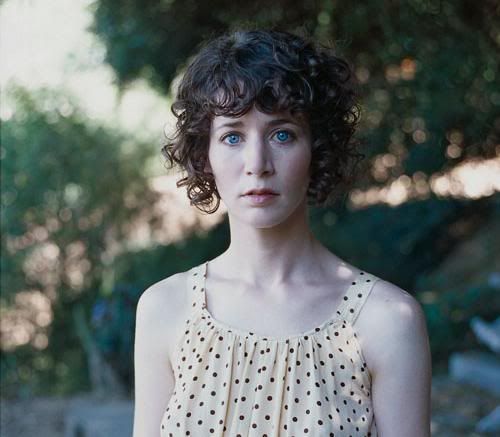 I bought Miranda July's book No One Belongs Here More Than You. There are some really great stories in it like "The Shared Patio" and "Something That Needs Nothing". I had already read those two before I bought the book, but they were great the second time as well. And there were other fine stories in the collection that I had not read before. I really like Miranda July and find her to be inspiring. I was going to write a couple paragraphs why, but I feel those reasons might be more effective as a list:

- There is this notion that while you might like writing, acting, playing the piano, filmmaking, and any number of other things, the reality is you will only achieve success at one of them, so you better choose one to get serious about, and let the other things stay in the realm of hobbies. Miranda July defies that idea, since she's been successful in art, filmmaking, and writing fiction. She's never had to choose.

- She's become successful in all those things without fancy educations. She never went to a snobby art school. She doesn't have an MFA in fiction writing. She taught herself.

-Unlike other writers or artists, she's never had to teach at a university to pay the bills. In fact, she's never had a day job since she was 23.

- The actual content of her work makes me think that the things I think about and write about are not weird, nor immature, nor too whimsical to be taken seriously. Infact, I feel more encouraged to write and make art about those things. It is possible to make a career out of them. And other people might see or read them and be interested or connect with them.
Monday, March 26th, 2007
---
11:10 pm
- the wallflower
Friday, March 2nd, 2007
---
11:33 pm
- hello. i'm still alive
Thursday, December 28th, 2006
---
12:01 am


I like reading about what you all got for Christmas, because I am interested in people's tastes and interested in cultivating my own. While it makes me feel spoiled, I got the Canon PowerShot SD600, McSweeneys 21, Reading Like A Writer by Francine Prose, The Conformist on DVD, red and electric blue tights from We Love Colors, gift cards and money with which I will buy The Nylon Book of Global Style and Illuminations by Walter Benjamin.

Spending time at home always renews my commitment to reading, writing, and learning how to write by reading. I hope Prose's book will provide some direction. I'm especially interested in her list of "Books to Be Read Immediately" included in the end. I'm always referencing those kinds of lists to try and be inspired to read the classics. I like this reading list particularly since it contains many of those classics, but also a good amount of relatively contemporary books and unlikely choices.